5 Differences to Consider in Outpatient vs. Hospital-based Imaging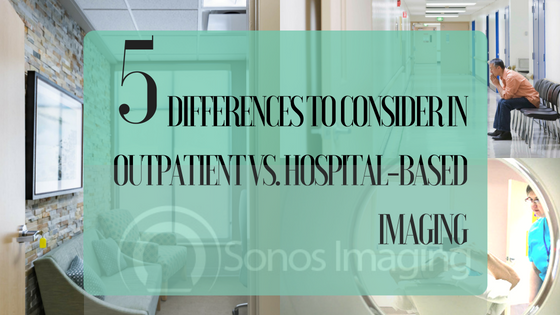 Did you know there is a difference in where you have your medical imaging exam conducted?
Patients don't realize they have a choice on where they can go for imaging. There is a difference in the entire experience. Outpatient imaging centers such as Sonos Imaging can save time and money and receive an extremely high-quality imaging exam with accurate results.
Here are some things to consider when choosing where to have your imaging exam: 
Convenient Imaging Locations
Outpatient imaging centers are not a part of a hospital system that requires complex navigation and large parking garages. When orthopedic patients need diagnostic imaging, it can be very stressful and difficult to commute to appointments and navigate inside the hospital halls to the imaging departments. Sonos Imaging offers 2 convenient outpatient locations in central Alabama. We offer free, front door parking at all of our centers. Find the location nearest you.
Time Saving Diagnostic Testing
Oftentimes, appointments are not available for days or weeks at hospital-based facilities due to priority based imaging. Outpatient imaging centers are much faster, frequently offering same day and next day appointments. Once at your appointment, the outpatient experience is quick with minimal waiting and no bumps to your appointment time in order to accommodate urgent or ER cases. Sonos Imaging offers a range of convenient appointment times that include both before and after work hours. Don't wait to be seen, schedule your same day appointment with Sonos Imaging.
Cost
When you are referred for medical imaging, you may wonder "How much will it cost?"
We know cost is important to you. Outpatient Imaging Facilities cost anywhere from 30%-50% less than hospital-based imaging providers. We accept most major health insurance plans and will work directly with your insurance company to obtain pre-authorization prior to your appointment with us.
High-Quality Imaging
High-quality imaging is a promise we make to our patients and our referring physicians. The medical doctors who review your images and write a report are subspecialized This means they specialize in reading images of the particular area of your body that you are having scanned. Between our advanced technology, certified technologist, and subspecialized radiologists, you can be sure you are receiving the best imaging. In fact, based on our 2018 patient satisfaction surveys from the 1st quarter, 99.4% of our patients would recommend Sonos Imaging to their family in friends.
Partnerships for Comprehensive Medicine
Known as a premier specialist in medical and diagnostic imaging; Sonos Imaging has partnered with Lemak Health, renowned leaders in the sports medicine field, to offer diagnostic imaging services as an extension of Lemak's comprehensive care model. Musculoskeletal injuries commonly require diagnostic imaging and orthopedic providers benefit greatly from having accessible diagnostic imaging solutions such as x-ray and MRI services. Sonos Imaging takes great pride in working with our referring physicians in multiple specialties to provide our patients with accurate results of the diagnostic testing to help determine plans of action for each patient and to offer personalized care coordination for our referring physicians.
State of the Art MRI Testing Diagnostics