We place the C in Comfort and Convenience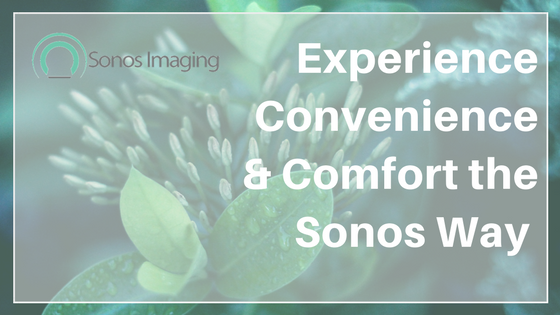 Sonos Imaging was created to be the most luxurious setting possible for patient care. Providing a unique patient experience, our top of the line facilities were designed with patient comfort and experience being our first priority.
Comfortable and Unique Patient Experience
There are no waiting rooms. Instead, patients have access to their own individual lounges, which have en-suite changing rooms, a desk, Wi-Fi, and television. These lounges are meant to be a restful place for the patients, their families, and their guests. We even provide our guest with the key to the suite to ensure your belongings are kept safe and secure.
Beyond our patient's private lounges, Sonos Imaging provides a calming, spa like atmosphere with an open, comfortable environment, a stocked snack and beverage selection area, and individualized service inside the most comfortable imaging setting found anywhere. Our commitment at Sonos Imaging is to exceed the needs of our patients and their physicians, in the most comfortable setting possible.
At Sonos Imaging, everything we do revolves around our patients and their comfort. And with the most State of the Art equipment available, physicians will feel at ease to offer their best care to their patients. The MRI facility is the first of its kind in Alabama and is home to the Optima MR450w 1.5T MR system, which is designed to help maximize comfort and technology.
The MRI Suite is open and bright and with the latest and largest technology from GE, Sonos Imaging will provide the most comfortable environment possible to each patient. The suite is oriented such that it is filled with natural light on two sides, allowing for a comfortable and open environment for patients.
Convenience to our Patients and Healthcare Providers
Sonos Imaging aims to provide our physician partners and patients' convenient service and uncompromised imaging to help make a definitive diagnosis. Sonos Imaging offers
STAT Services

Same Day Appointments

Reports available within 24 hours

Hassle Free Scheduling

Insurance Pre-Certification Services

Board Certified Radiologists and Sub-specialists

Patient Care Coordination

Web-based access to images and reports
When patients require diagnostic services, Sonos Imaging wants to provide service in such a manner that offers a convenient location and the most comfortable environment imaginable. We have two offices for your convenience. Our first office is located at 2715 Legends Parkway in Prattville, Alabama next to Lemak Health and across from Home Depot. Our Birmingham office is located at 5018 Cahaba River Road in Birmingham, Alabama.
At Sonos Imaging, our goals are to offer superior patient outcomes, patient comfort, provide efficient turnaround times with results for patients and their healthcare provider, deliver accurate results of the diagnostic testing to help determine plans of action with the most State of the Art equipment available, physicians will feel at ease referring Sonos Imaging to offer the best care to their patients.
State of the Art MRI Testing Diagnostics