At Sonos Imaging, the ability to offer the C-Arm is bringing another State of Art technology and equipment to help Sonos Imaging patients. Sonos offers the latest technology in mobile imaging providing high quality images at the lowest possible dose and delivering great outcomes.
The C-Arm is a fully digital mobile unit displaying fluoroscopic images. The C-Arm will be used in MR arthrograms and pain management. The GE Mobile C-Arm will provide our radiologists with live, real-time x-ray imaging.
The latest technology in our mobile C-Arm will aid the radiologist in identifying anatomy, target treatment areas, diagnose and treat, and deliver great outcomes for our patients. These functionalities are critical to ensure accurate and effective treatments for lasting results.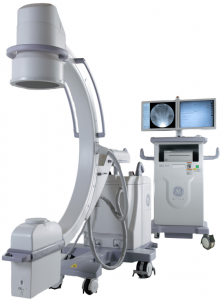 State of the Art MRI Testing Diagnostics