Three years since opening,
Three years since opening, Sonos Imaging has continued to focus on the patient experience at our freestanding imaging center. 
Sonos Imaging opened it's first freestanding imaging center on the 15th of March in 2016. Sonos Imaging of Prattville is located at 2715 Legends Parkway Prattville, AL 36066. West off of I-65 near Cobbs Ford Road in the shopping center with New Vision Theaters, Target, and Home Depot adjacent to Lemak Health of Prattville, Alabama. 
Sonos Imaging of Prattville will be hosting a Sip and See event to celebrate our 3 Year anniversary. Local physicians, office managers, and patient care coordinators were invited to stop by on Friday afternoon to take a tour of our facility.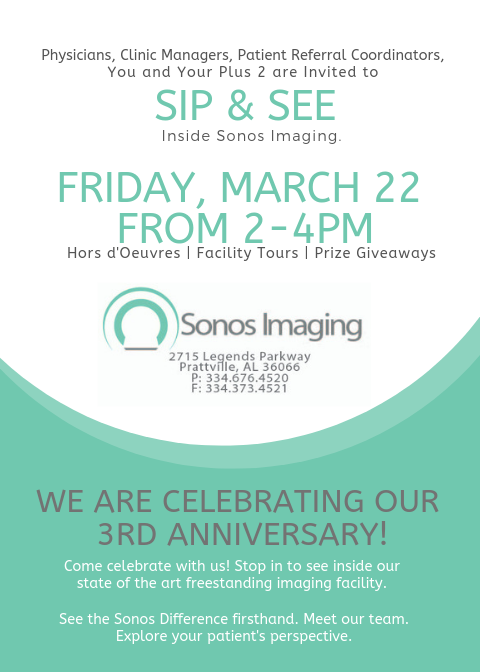 When patients require diagnostic services, Sonos Imaging offers a convenient location and the most comfortable environment imaginable.
Diagnostic Imaging centers across the country operate on physician referral bases. While patients do have a say so in where they go for care, It's also dictated by payors within their network and the specific imaging providers that your referring physician may work with. Appointments must be made through a referring physician's office. If you would like the spa-like experience for your next MRI, please mention Sonos Imaging to your physician's office and the necessary referral process can be coordinated.
State of the Art MRI Testing Diagnostics